Culligan Whole House Water Treatment Solution – just $84.90/mo.!
For a limited time you can upgrade your home's water with Culligan's Whole House Water Treatment Solution! Get an HE Softener and Aquasential RO for just $84.90 per month!
Own A Culligan® Reverse Osmosis Filter For Under $18/mo.
Introductory Rate of less than $18/mo.
Why Choose Reverse Osmosis Filters For Your San Diego Home?
Our water filters are second to none. But the real secret: We make water treatment easy.
Expert Installation. Easy To Use.

Culligan has been in the water treatment service business for more than 85 years…and it's all we do. Your local Culligan delivers, installs and maintains your reverse osmosis filtration system for you, so you don't have to! No worries about shipping damage, unboxing, or installation location. We also offer maintenance and filter changes annually.

Unmatched Performance + Custom Solutions.

How many water filters have you been through over the years? Many off-the-shelf filters only reduce the most common impurities in your San Diego area, such as chlorine. Culligan's drinking water systems address the unique content of your water, filtering 99% of all water contaminants at less cost, with unmatched durability and less hassle over the course of the product lifecycle.

Why Reverse Osmosis Drinking Water Filters Over Pitcher/Faucet Mount Styles?

RO filters are one of the most reliable methods of eliminating drinking water contaminant(s) that can be harmful to your health.  These are pervasive in many water supplies across the country and include lead, PFAS, arsenic, volatile organic compounds, and other emerging problems that store-bought filters will not remove.

Why Price Tags Are Deceptive

Unless you were an expert installer, you wouldn't buy a water heater directly off Amazon. However, big box retailers, both in-store and online, take this transactional approach to homeowners for reverse osmosis water filters. They offer you low price tags for incentive. But what they don't tell you about are the installation hassle, the third-party customer service on both ends, and how you're left to your own devices to maintain your system – don't forget, your home is unique. There is no one-size-fits-all solution. If you truly want to save throughout the life of your system, go with the expert!
Local Water Problems
San Diego Water Issues
Top Products
The Most Popular Water Filters for San Diego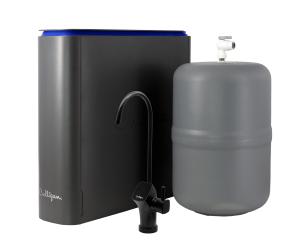 The Aquasential® Smart Reverse Osmosis Water Filter (RO)
7 stages of filtration and 12 filter options
Certified for reduction of 58 contaminants
2-in-1 sediment and carbon filter screens out sediment and particles
Can alert you and your dealer when service or filter replacements are needed
Aquasential™ Tankless Reverse Osmosis Filter System
Requires 2/3 less space than traditional RO systems
New dashboard panel provides real-time feedback on water quality and system health
Reduce total dissolved solids and particulates found in tap water by 95%.
The Proof
Why Do San Diego Homeowners LOVE Us?
Helen B.
We find Culligan to be a great investment in our family's health. We love the reverse osmosis drinking water as well as the whole house water softener system. Anytime we call every single customer service representative is extremely friendly and professional.
Peter V.
Product quality is great. Taste is wonderful. No more buying water at the store. No more refilling jugs. No more running tap water through filter devices. I am particularly impressed by the technicians who make the installation quick, safe, and invisible. And when I moved, they were there to move my equipment at no charge.
Maria S.
You never have to wait long to receive services or adjust services such as moving or choosing your water filtration system. I recently moved which we all know is stressful and I left calling to transfer my services to the week I was moving! Culligan was able to accommodate me in moving my services and setting up an appointment to inspect my new home for a reverse osmosis system very soon after I moved in.
Water Filter FAQ
We Have Answers!
What is Chromium 6 and can Culligan equipment filter out Chromium 6?
Yes, chromium six (or hexavalent chromium) has recently been discovered in limited amounts in some water supplies. Chromium six is suspected of being a carcinogen, and should not be ingested at amounts above the federally mandated limits. We have never been alarmists, but if you are concerned about the quality of the water you drink, you might want to consider a reverse osmosis system. Reverse Osmosis is the only readily available system that removes up to 97% of Chromium-6. You can read more about it here.
What is Reverse Osmosis (R.O.)?
Reverse osmosis is a sophisticated multi-stage filtration system that is capable of removing up to 97% of all the dissolved minerals from your water. It is designed to make water that is at least as good as the water you buy in bottles. Many times, it's even better. This reduces waste in landfills by using less bottled water, making reverse osmosis environmentally friendly. You can read more about it here.
Is Reverse Osmosis water as good as bottled water?
Yes – The Culligan RO system uses multiple processes including Reverse Osmosis to make great tasting, low sodium drinking water. Reverse Osmosis removes about 97% of the TDS (Total Dissolved Solids) including salt and sodium from the water. Read the labels on bottled water and you will discover reverse osmosis is the same process used by most bottlers … so in effect … you really are getting … "bottled water without the bottle".
I already have a filter in my refrigerator? Why do I need anything else?
Refrigerator filters are typically just carbon, and while carbon filtered water is better than no treatment at all, it is limited in what it can remove. Only reverse osmosis is capable of removing dissolved minerals and chemicals from your water. You can read more about this subject here.